Accomodation
Main Building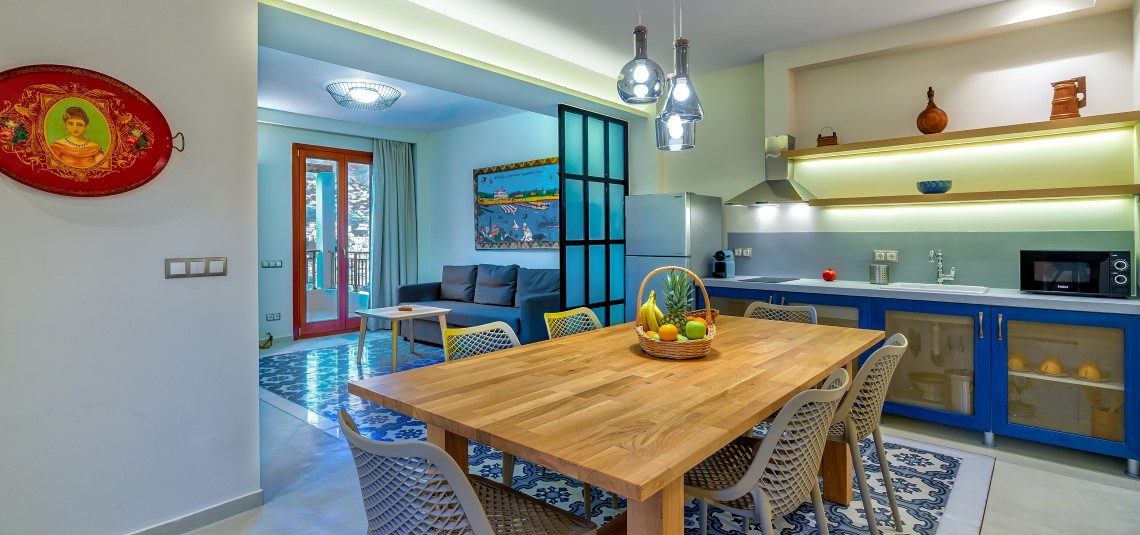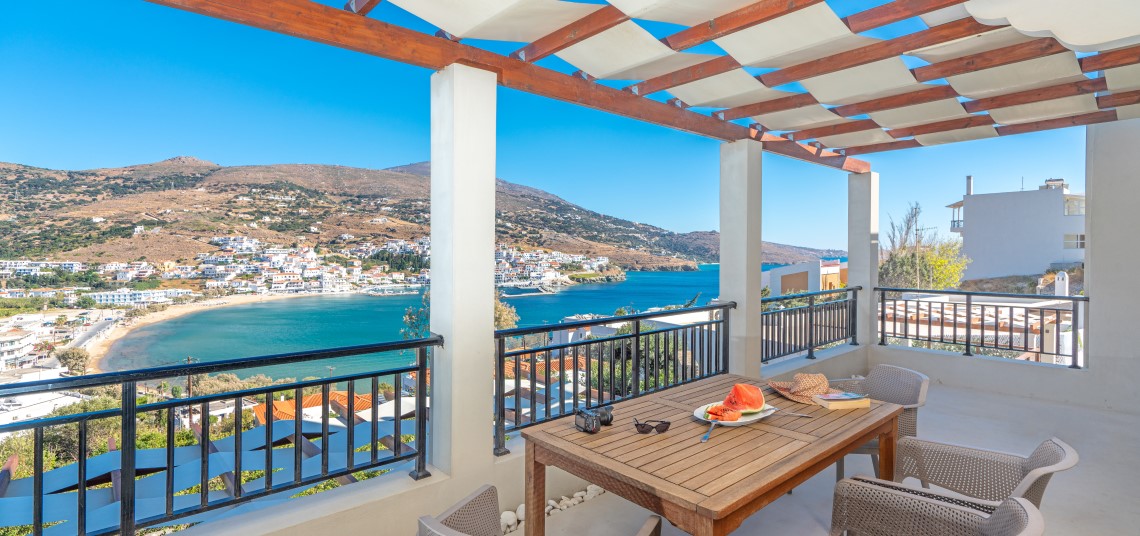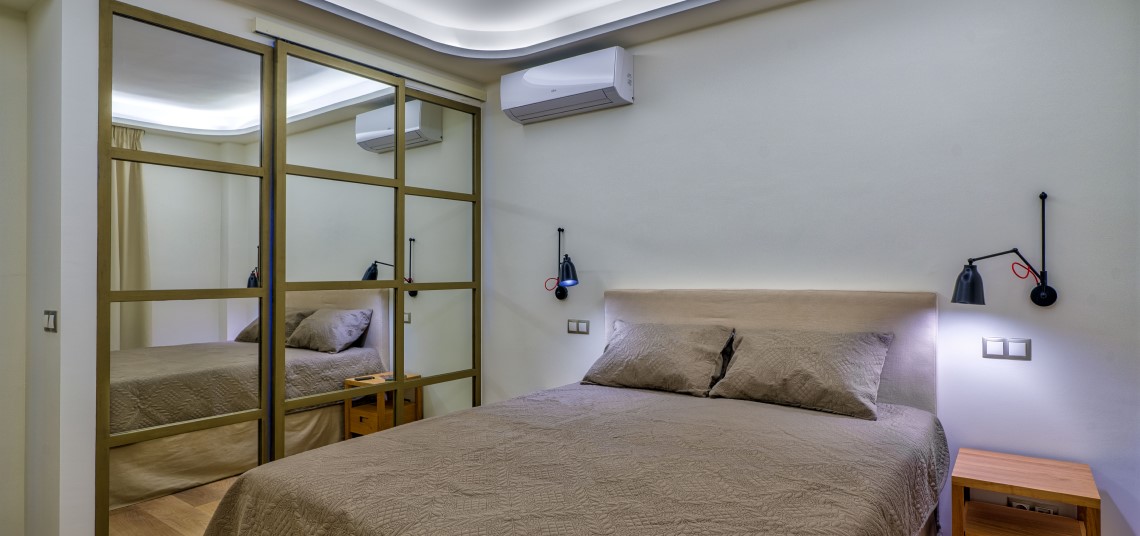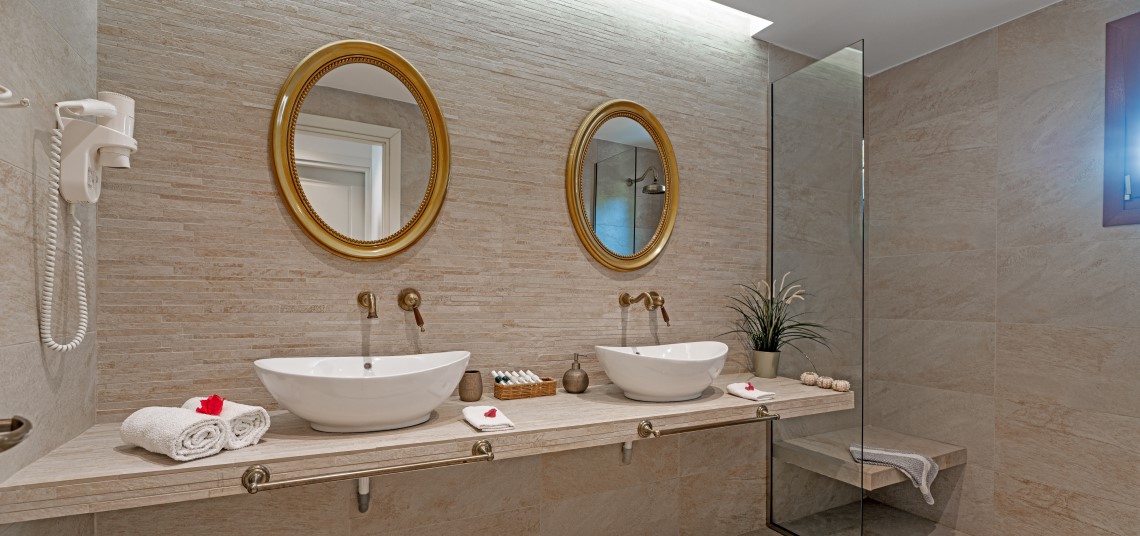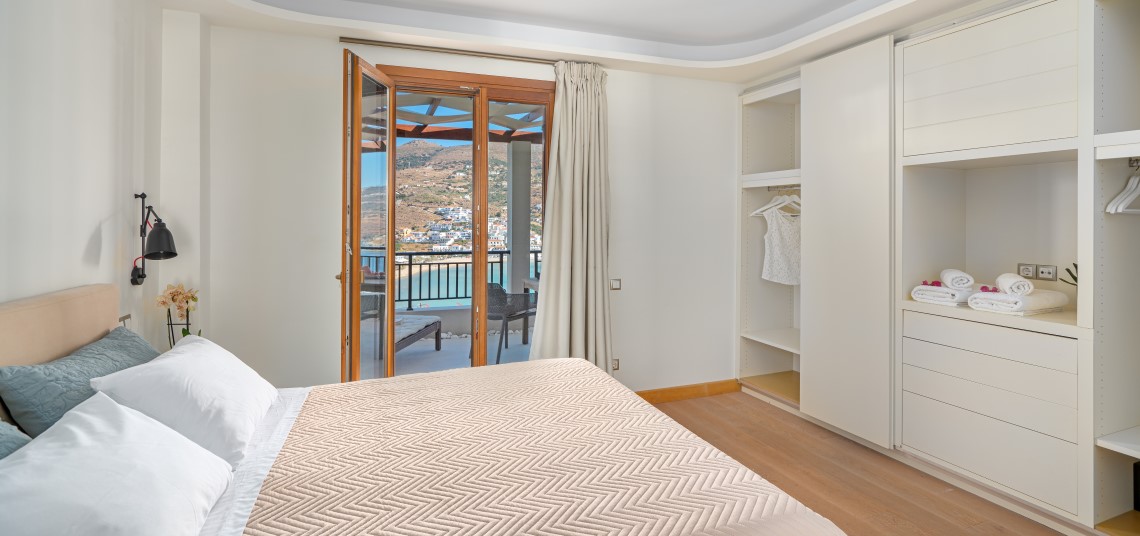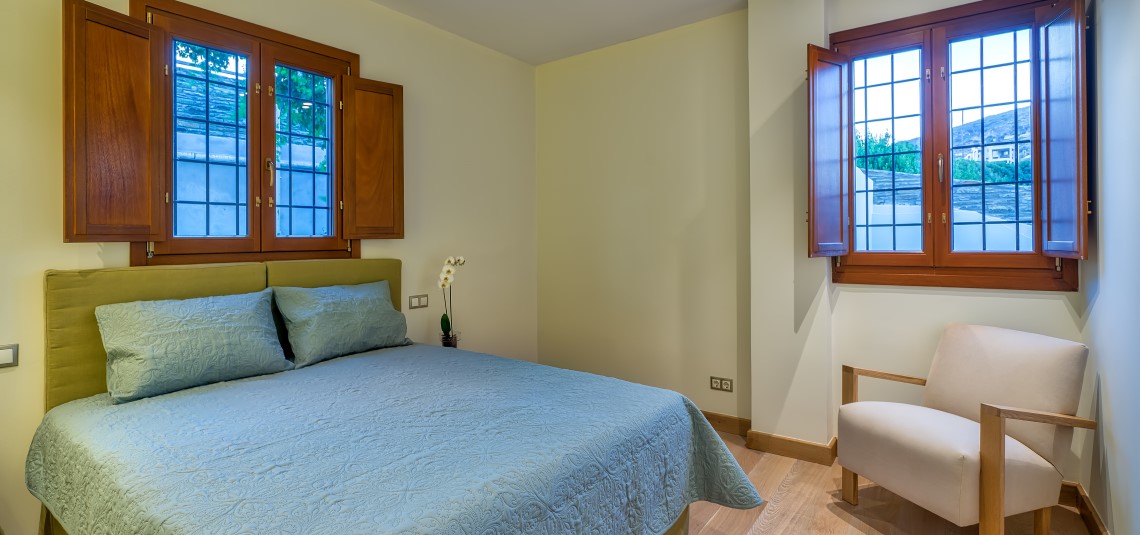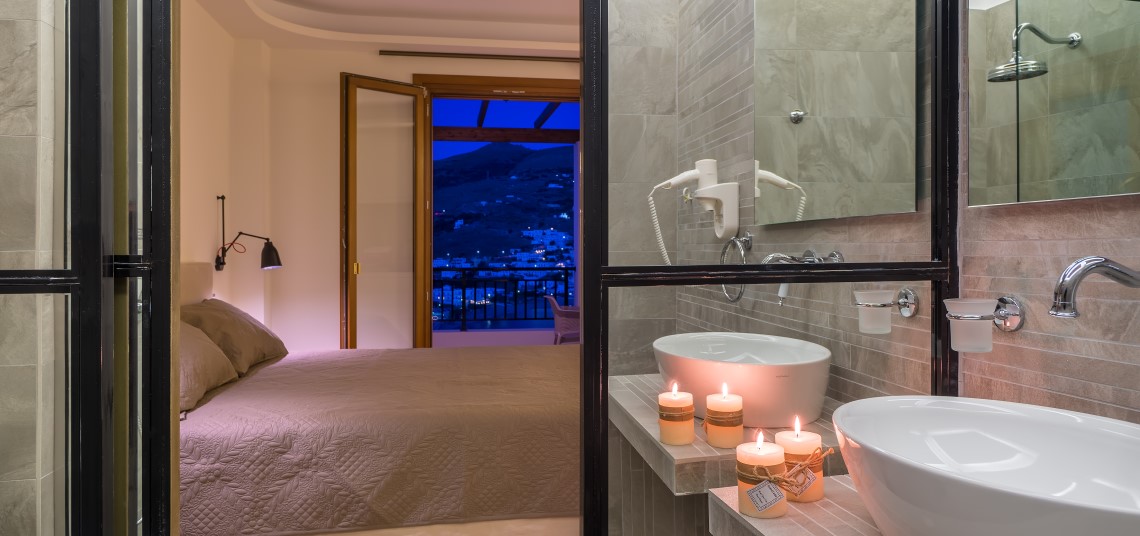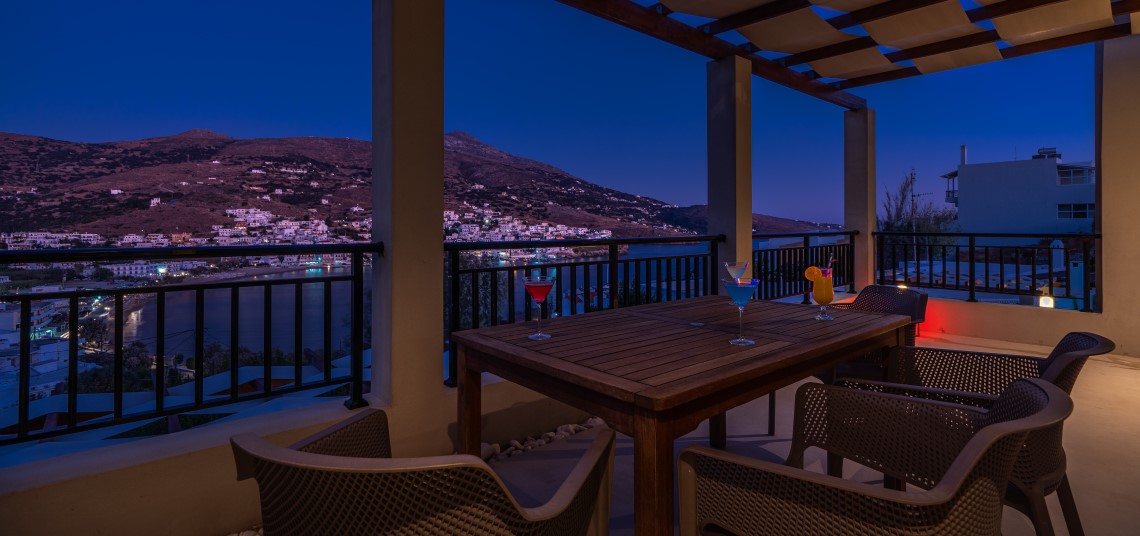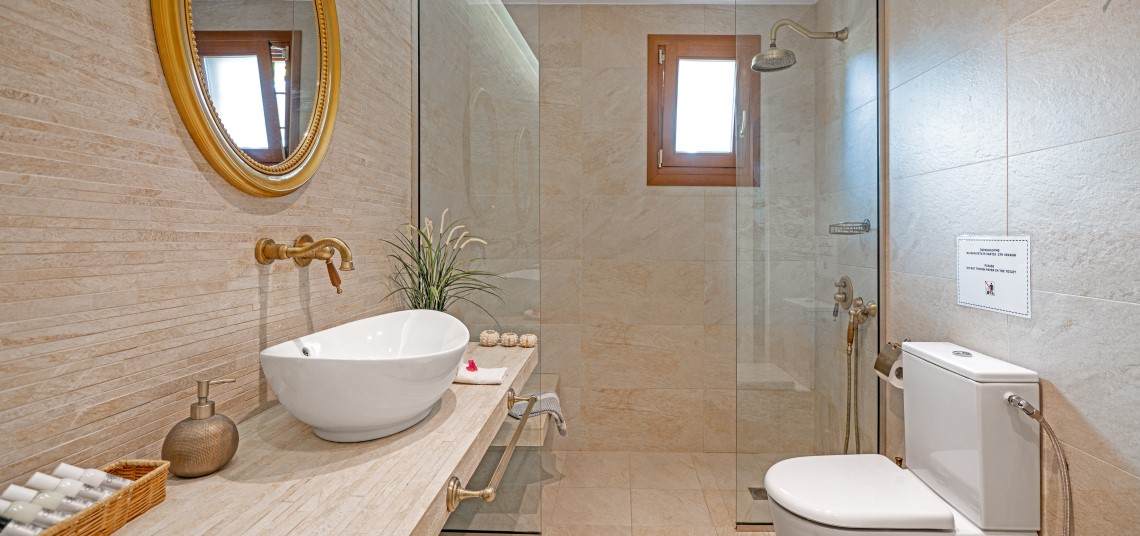 Aelia Suite
With Sea View
Suite apartment offering 2 bedrooms with en suite bathrooms and a large living/dining room with total living area of 82 sq.m. Combining comfort and luxury it's interior design is influenced by local architectural elements. Beton cire in warm earthly colours has been used for the floors, alongside handmade tiles that are delimited by marble and bronze thus creating the effect of a 'carpet'. In the bedrooms wooden floors provide warmth and authenticity, while coco-mat beds guarantee relaxation and good quality sleep.
Sleeps 6
Large 82 sq.m. suite
2 bathrooms
Served Breakfast
Excellent Free Wifi
Online ordering room service
Sea View Terrace
Shared Swimming Pool
Air Conditioning
Daily cleaning
Port pick up service
Private Parking
Aniccy
Guest
We highly recommend this place. The rooms were very comfortable and super clean. Everyone working there was really really nice to us and very accommodating.All recommendations that came from Anna (the hotel owner) were fantastic. She has a great taste for good food and she is extremely knowledgable about the island so worth taking taking her recommendations into consideration.
Hanan R
Guest
We stayed at belvedere 3 amazing nights. Ana the host made sure that everything was perfect. The view is great, the rooms are new, clean, spacious and equipped. Breakfast was taylor made for us. Batsi beach is full of great restaurants. We highly recomend belvedere!!!!
Fabien Ryn
Client
היינו בAelia, משפחה עם 2 ילדים בתחילת ספטמבר. הבית יפה וצופה על נוף פתוח של מפרץ בטסי ומאובזר בכל מה שצריך ומעבר, ברמה גבוהה.יש פשוט הכל. הכניסה לבית פרטית עם חנייה משותפת. אנה בעלת הבית מקסימה מאד,תקשורתית ועוזרת בכל מה שצריך. ארוחות הבוקר טעימות ומגוונות. אנדרוס הוא אי מדהים עם אנשים טובים ושפע חופים בגווני ירוק טורקיז ומים צלולים(מוסדרים וגם פראיים). אהבנו הכל, ממליצים מאד
Μαρίνα Π
Client
Υπέροχη διαμονή ! Μείναμε στην σουίτα Galene! Πολύ όμορφη διακόσμηση δωματίου με καταπληκτικό καναπέ εξωτερικού χώρου που είχε άπλετη θέα σε όλο το Μπατσί! Πολύ ευγενικοί οικοδεσπότες έτοιμοι να σε πληροφορήσουν για το κάθε τι που χρειαζόσουν! Στα συν και οι παροχές για το μικρό μας παιδί ( παιδική μπανιέρα, καρεκλάκι, παρκοκρέβατο, παιδικά σεντόνια, παιδικό μπουρνούζι) καταπληκτικό στρώμα και μαξιλάρια.... Ησυχία, ξεκούραση και πραγματικά γαλήνη...Ιωάννα ευχαριστούμε για όλα! Θα ξανάρθουμε!!! Βασίλης - Μαρίτα και Κωνσταντίνος!!!